Roasted Vegetable Empanadas with Chipotle Mayo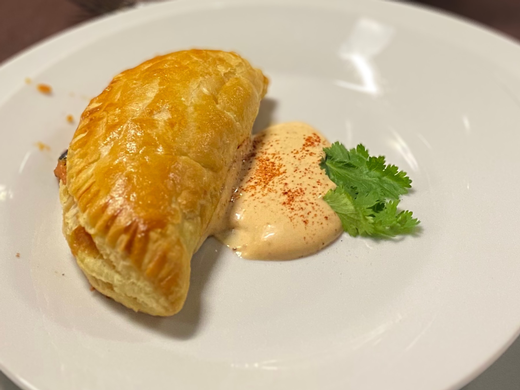 Recipe Date:
December 6, 2022
Measurements:
Imperial (US)
Makes about 35 Empanadas. Enjoy as a main dish, side dish, or a snack!
Ingredients
4 small sweet potatoes, cut in half lengthwise
2 butternut squash, cut in half
1 medium onion cut in half
3 red bell pepper, seeds removed and cut into lengths
4 tbsps olive oil, divided
1/2 tsp smoked paprika
1/2 tsp sea salt
1/4 tsp black pepper
16 ozs can of black beans, rinsed and drained
16 ozs bag of Corn, frozen
1 puff pastry, frozen // Recommended - Jecky's Best; comes already in right thickness and large sheets
2 cups mayonnaise
1 Lime, juiced
2 cloves of fresh garlic, finely chopped
4 tbsps chipotle peppers in adobo sauce
1 tsp smoked paprika
1 egg
Directions
1. Preheat oven to 425°F. Line a large baking sheet with parchment paper.
2. Place peppers, onions, sweet potatoes and squash (cut side up) on baking sheet and drizzle with 3 Tbsp. olive oil. Lightly season with salt and pepper. Roast for about 20 minutes until tender.
3. While vegetables are roasting, heat a large skillet over medium heat. Add 1 Tbsp. olive oil, drained black beans and corn and sauté for 2-3 minutes. Mix in paprika.
4. When vegetables are roasted scoop out sweet potatoes and process with red peppers and onions in a food processor. Empty into a bowl and add diced butternut squash, corn and bean mixture and stir until well blended.
5. Reduce oven to 375°F. Lay out puff pastry sheets. If needed roll to about 1/8" thickness. Cut into circles about 5 inches in diameter using a ring cutter or small bowl. Put about 2 Tbsp. filling in the center of each circle. Brush entire edge with water, so once folded it will stick together. Fold dough over filling to form empanada, pressing edges together. Crimp with a fork. Place on a parchment-lined baking sheet.
6. Whisk together the egg and water to make the egg wash. Brush each empanada with the egg wash. Bake for 30-35 minutes or until they are golden brown. Serve with Chipotle Mayo.
7. For Chipotle Mayo, blend mayonaise, lime juice, garlic, chipotle peppers, & 1 tsp smoked paprika together in a blender or food processor.