Roasted Cherry and Goat Cheese Crostini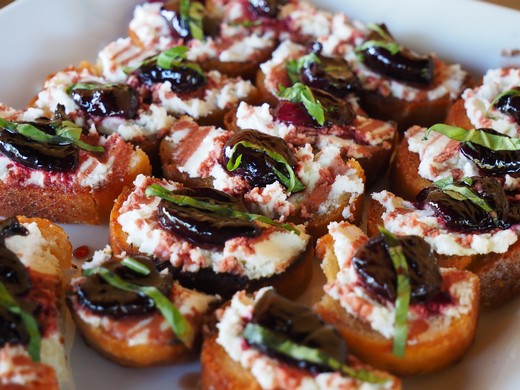 Recipe Date:
December 27, 2022
Measurements:
Imperial (US)
Ingredients
1 1/2 lbs fresh cherries, pitted and halved
3 tbsps olive oil, divided
1/4 tsp dried thyme, or 405 fresh sprigs
1 baguette, sliced on the diagonal (aprox. 16 slices)
4 ozs goat cheese, room temperature
1/2 tsp coarse sea salt
Fresh Basil, for garnish
2 tbsps aged balsamic vinegar, optional
Cherry Pitter
Rimmed Baking Sheet
Directions
1. Preheat oven to 400 degreesF. Using a large baking sheet with edges, coat cherries with about 1 tablespoon olive oil, dried thyme, and a sprinkle of salt and pepper. Roast for approximately 25 minutes, stirring halfway through. Remove from oven and set aside to cool slightly.
2. Meanwhile, make the crostini by drizzling each baguette slice with olive oil and salt. I like to spread the slices among a large baking sheet, drizzle, flip, and move around on the pan to continue soaking up the oil. Then, spread the baguette slices across the pan. During the last 10 minutes of the cherries roasting, place the crostini in the oven and cook on each side for 3-5 minutes. Remove once golden and toasted.
3. To assemble the crostini, spread the goat cheese evenly among the crostini, using as much as you'd like. I recommend about a tablespoon per crostini, depending on the size. Top the goat cheese with the roasted cherries and garnish with fresh basil or thyme as desired.
Optional: drizzle with an aged balsamic vinegar for another level of yum or a pinch of flakey seas salt.
*This recipe can be made gluten-free by using gluten-free crackers.